Overview: In August 2023, the South African job market showed signs of recovery following a dip in recruitment in July. The recruitment activity increased by 6%, marking a positive shift from the previous month. Year-on-year, hiring activity was up by 3% compared to August 2022. A comparison of hiring activity over the last three months with the preceding three months indicated a 6% increase in recruitment. This growth was particularly evident in the Business & Management, Medical & Health, and Building & Construction sectors. However, there was a decline in hiring activity in the Information Technology and Admin, Office & Support sectors.
Key Findings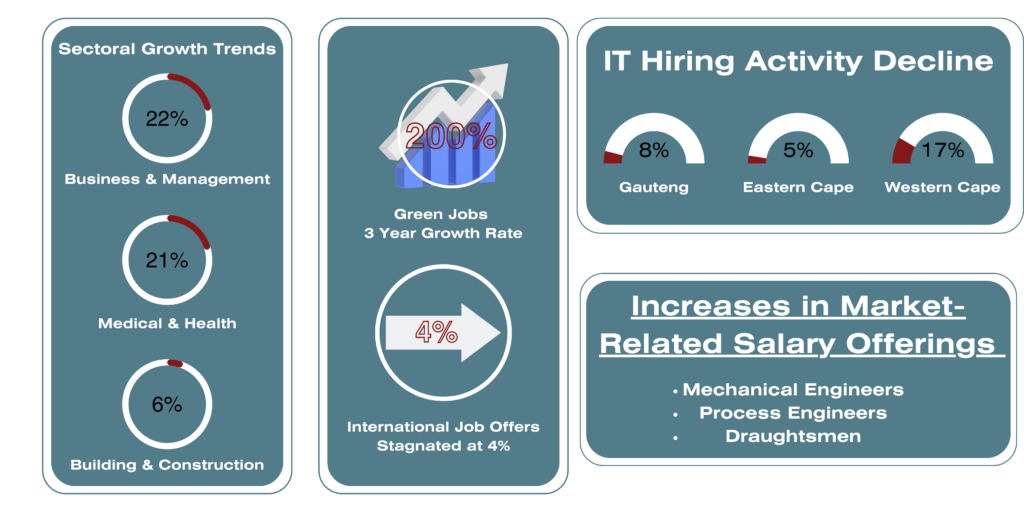 Sectoral Variations: Among the notable sectoral trends, the Business & Management, Medical & Health, and Building & Construction sectors saw significant increases in hiring activity, with growth percentages of 22%, 21%, and 6%, respectively. In contrast, the Information Technology and Admin, Office & Support sectors experienced a decline of 4% and 3%.
Green Energy Jobs: The demand for green energy professionals continued to surge. Over the last three years, demand for green energy professionals increased by over 200%. In 2023, vacancies for green energy jobs reached their highest number, with the majority falling under the Engineering sector.
In-Demand Green Energy Roles: Typical job roles in the green energy sector include Design Engineers (Solar), Solar Electrical Engineers, Technical Engineers in Renewable Energy, and more. These roles are experiencing high demand, reflecting the growing focus on renewable energy sources.
Sales Professionals: In most sectors, sales professionals have become crucial for business success. The need for sales staff is growing, and vacancies for roles such as Technical Sales Executives, Solar Sales Representatives, and External Sales Engineers are on the rise.
Regional Employment Hubs: Gauteng remains the largest employment hub in South Africa, followed by the Western Cape and KwaZulu-Natal. International job offers remain static at 4%.
Information Technology: Demand for IT professionals significantly increased in Gauteng, the Eastern Cape, and the Western Cape from 2021 to 2022. However, since August 2022, hiring activity in this sector has decreased year-on-year, with Gauteng experiencing an 8% decline, the Eastern Cape a 5% decline, and the Western Cape a 17% decline.
Marketing: Demand for Marketing professionals varied by region. While Gauteng experienced growth from 2021 to 2022, the Eastern Cape saw a decline in demand. In the Western Cape, growth was observed from 2021 to 2022, but it has declined since August 2022.
Business & Management: Demand for Business & Management professionals increased in Gauteng from 2021 to 2022, remaining steady since August 2022. Both the Eastern Cape and Western Cape saw slow but consistent growth in hiring activity for Business & Management professionals.
Market-Related Salary Offerings: Salary offerings for top in-demand skills, such as Mechanical Engineers, Process Engineers, and Draughtsmen, showed varying increases.
Most In-Demand Roles: The most in-demand roles included Industrial Engineers, Plant Engineers, and Electrical Engineers.
Candidate Preferences and Trends: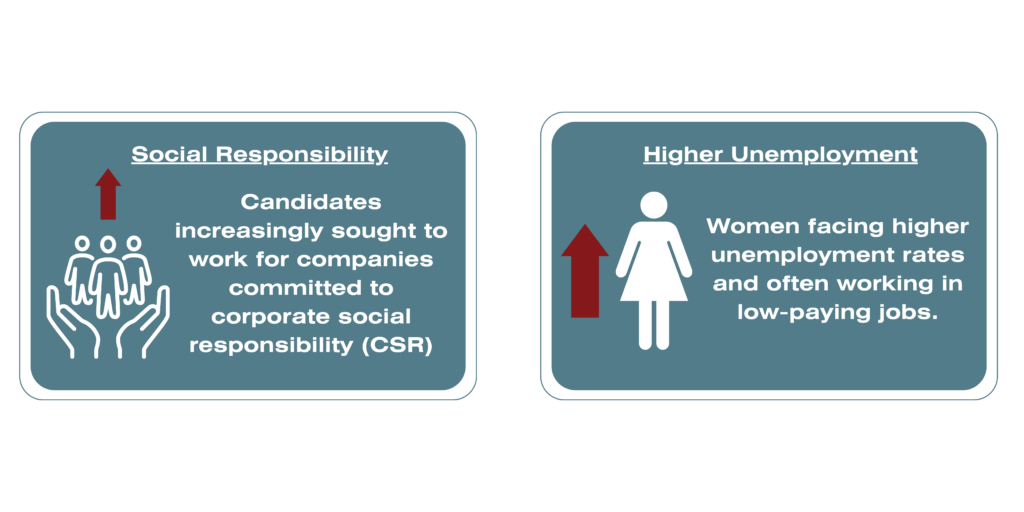 According to "South Africa 2023 Salary Guide Michael Page"
Contract Preferences: 77% of candidates preferred permanent positions, while 32% were open to temporary contracts. Stability was highly valued.
Company Size Preferences: Middle-sized companies were the top choice for 42% of respondents, followed by large companies at 41%, and small companies at 15%. Each size had its unique advantages.
Social Responsibility: Candidates increasingly sought to work for companies committed to corporate social responsibility (CSR). Values related to human rights, environmental responsibility, and philanthropic responsibility were important to candidates.
Flexible Work Arrangements: Over 78% of respondents desired flexible work arrangements, with a preference for a mix of remote and office work. Women appeared to value flexible arrangements more than men.
Top Priorities: Career growth potential and company transparency were crucial priorities for candidates. A work-life balance and a well-structured work environment were also valued.
Skills Training: The majority of companies planned to prioritize skills training, focusing on analytical thinking, creative thinking, and training workers to utilize AI and big data.
Diversity, Equity, and Inclusion (DEI): A significant portion of companies planned to prioritize women, youth under 25, and those with disabilities as part of their DEI programs.
Gender Disparities: Gender disparities in the labour market persisted, with women facing higher unemployment rates and often working in low-paying jobs. Efforts to enhance women's participation in employment and address job gaps were identified as essential.
Trends Impacting the Labour Market
Upskilling and Reskilling Initiatives Organizations have recognized the importance of enhancing their current workforce's skills. They have invested in comprehensive training programs to bridge skill gaps and promote talent retention and growth. This trend ensures that companies remain competitive by harnessing the full potential of their employees.
Artificial Intelligence in Recruitment AI has made significant inroads into the recruitment process, automating various tasks like resume screening, candidate sourcing, video interviews, and talent analytics. This integration streamlines processes, improves efficiency, and saves valuable time for hiring managers, making recruitment more data-driven and accurate.
Employer Branding Companies have realized the significance of building a strong employer brand to attract and retain top talent. Promoting a unique culture, values, and benefits has become crucial, as candidates are looking for organizations that align with their personal and professional goals.
Diversity and Inclusion Diversity and inclusion have taken center stage in the recruitment process. Organizations understand the value of diverse teams in driving innovation and problem-solving. Therefore, hiring practices are being diversified to create a more inclusive workplace, attracting candidates from various backgrounds.
Challenges Faced by Hiring Managers
Unrealistic Salary Expectations: In-demand candidates often request unrealistic salary expectations, creating a challenge for hiring managers to meet these demands while staying within budget constraints.
Talent Shortages: Talent shortages have led to salary premiums and longer notice periods, making it difficult to attract and retain top-tier talent.
Budget Constraints: Hiring teams are looking for cost-effective solutions to meet their recruitment needs while maintaining competitive salaries and benefits.
Lengthy Interviewing Processes: Prolonged interviewing processes can deter candidates, especially those in high demand, from staying engaged with the recruitment process.
Demands for Hybrid Working: Younger professionals are increasingly seeking flexibility in hybrid-working structures, putting pressure on organizations to adapt.
Opportunities for Hiring Managers
Clearly Defined Role Expectations: Clearly defining role expectations upfront can help attract candidates who align well with the position, reducing mismatches and turnover.
Open and Consistent Communication Open and consistent communication with candidates and recruitment agencies, providing timely updates and feedback, enhances the overall recruitment experience.
Embracing Diverse Hiring Methods: Diverse hiring methods ensure a wider pool of candidates and promote inclusivity, making it easier to find the right fit for the organization.
Streamlined Decision-Making: Streamlining decision-making processes, implementing solid hybrid working models, and displaying budgets and salary ranges for roles can appeal to candidates and simplify the screening process.
Prioritizing Candidate Experience: Emphasizing job stability and building trust with candidates through attentive and fast-moving recruitment can enhance the overall candidate experience.
Engaging with Specialist Recruiters: Specialist recruiters provide valuable market insights, support, and guidance, facilitating smoother candidate closures and making the recruitment process more efficient.
Concentrating on Succession Planning and Team Growth Hiring managers should focus on succession planning and team growth to attract top-tier candidates and remain flexible with non-negotiable requirements.
Pay, Benefits, and Bonuses
Pay and benefits remain a critical factor in attracting and retaining talent. While some organizations have moved towards offering standard salary packages without benefits, candidates continue to place high value on perks like medical aid. Multinational businesses are offering relocation opportunities to top talent, and bonuses are becoming increasingly structured, with many candidates seeking guarantees. The labour market in 2023 is marked by significant trends, challenges, and opportunities that are redefining how organizations approach recruitment and retention. By staying ahead of these trends, addressing challenges, and leveraging the opportunities, companies can navigate the evolving labor market landscape effectively and secure the top-tier talent they need to thrive in the competitive business world.
Conclusion
The South African job market in August 2023 showed signs of recovery, with varying trends in different sectors. Green energy jobs, sales roles, and IT professionals remained key areas of interest. The preferences of candidates highlighted the importance of stability, corporate social responsibility, and flexible work arrangements. Addressing gender disparities in the job market continued to be a challenge, emphasizing the need for initiatives to enhance women's participation in employment.